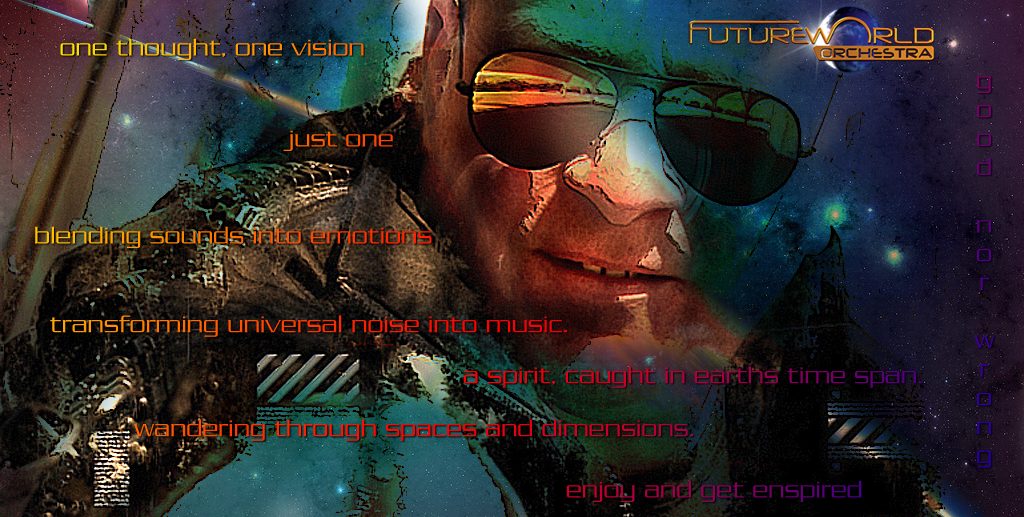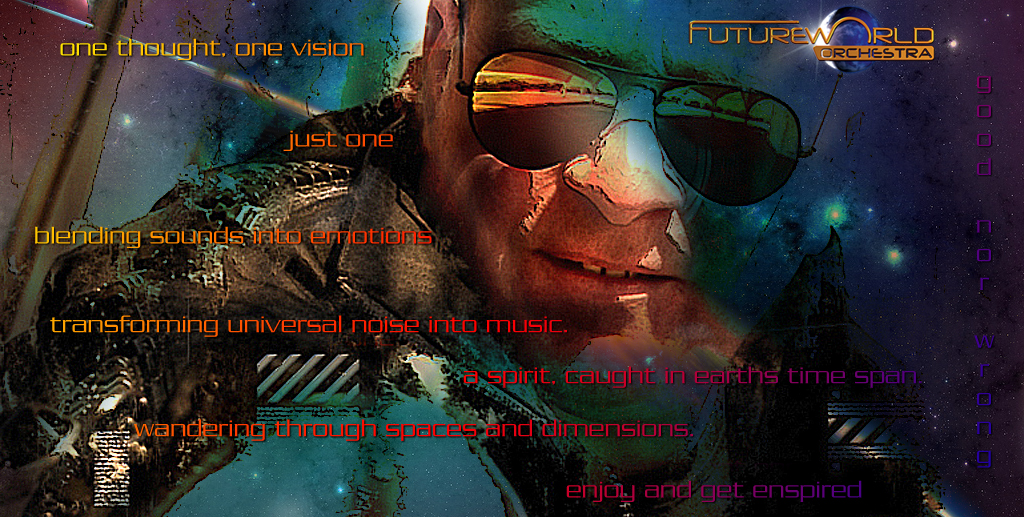 Futureworld Orchestra
This website marks a new future for the most important music project in my life: FUTUREWORLD ORCHESTRA, which I founded with my good friend Gerto Heupink, in the early eighties. Here you will find information from the past, the present and the future. Internet brings us freedom of speech and should bring us closer together. Being a creator of music and graphic art, I'm now able to using it as an artist and a creator. Creating music in the most purest sense. Music as it should be, pure and from the heart.
"The World's A Better Place When We Enjoy And Share Music In Freedom!"

The past, present & future of Futureworld Orchestra
Futureworld Orchestra is founded in 1980 by Robert Pot and Gerto Heupink who both have a great interest in synthesizer-technology. After experimenting for several months, they decided to contact a Dutch record-company (Dureco) to, eventually release their music. The first recording session comprised the tracks: Desire, I'm not afraid of the future, Airborne and Casablanca Night. Desire was the first single released in October 1981 which became a Dutch hit instantly. Interest from all over Europe came right away and international releases followed quickly. Robert and Gerto travelled throughout Europe for promotional purposes. Their first album MISSION COMPLETED was released in 1982.
In 1983 the album TURNING POINT was released and contained among other tracks: Theme from E.T and Roulette, which became radio finish tune of the French Tour de France in 1983. The album was produced by  Bert Ruiter, former bass player of the famous Dutch band FOCUS.
In 1985 Robert and Gerto separated musically because of differences in vision and opinions about the direction to go. Robert and Gerto however stayed good friends until this very day!
In the year 2000 Robert released THE HIDDEN FILES, containing only instrumental tracks. With the release of this album Robert changed "Future World Orchestra" into "Futureworld Orchestra", marking the sad goodbye of his good friend.
In April 2010 Futureworld Orchestra released the album REGENERATED.
An album containing the primary tracks of Futureworld Orchestra, completely re-recorded and produced by Robert Pot. Reason for Robert to do this was because of the fact that the original 2 albums (Mission Completed & Turning Point) were not available to the public at that time.
The following albums are ever since released by Futureworld Orchestra:
ORGANIZED – PICTURES AT AN EXHIBITION – OCEANS OF INFINITY – GREATEST SYNTHESIZER HITS – Volume 1