Pay attention please: Order Price will significantly go up in:
MCTP-XL-CD
€42,95
MISSION COMPLETED XL &
TURNING POINT (XL)
ORIGINAL ALBUMS from the 80-ies!
(+ 14 bonus tracks)
DOUBLE CD in luxurious DIGISLEEVE
35 tracks / over 2,5 hours
of the best synth-pop music
from the Netherlands
Description
FIRST TIME RELEASE of the 2 famous FUTURE WORLD ORCHESTRA eighties albums on one awesome DOUBLE CD.
Mission Completed XL & TurningPoint XL are Future World Orchestra's original albums from the eighties, containing hits like: "Desire", "I'm not afraid of the future", "Theme from E.T." and "Roulette". The XL stands for the 14 bonus tracks which brings the total time to over 157 minutes of music and the total number of tracks to a whopping 35.
= = = = = = = = = = = = = = = = = = = = = = = = = = = = = = = = = = = = = = = = = = = =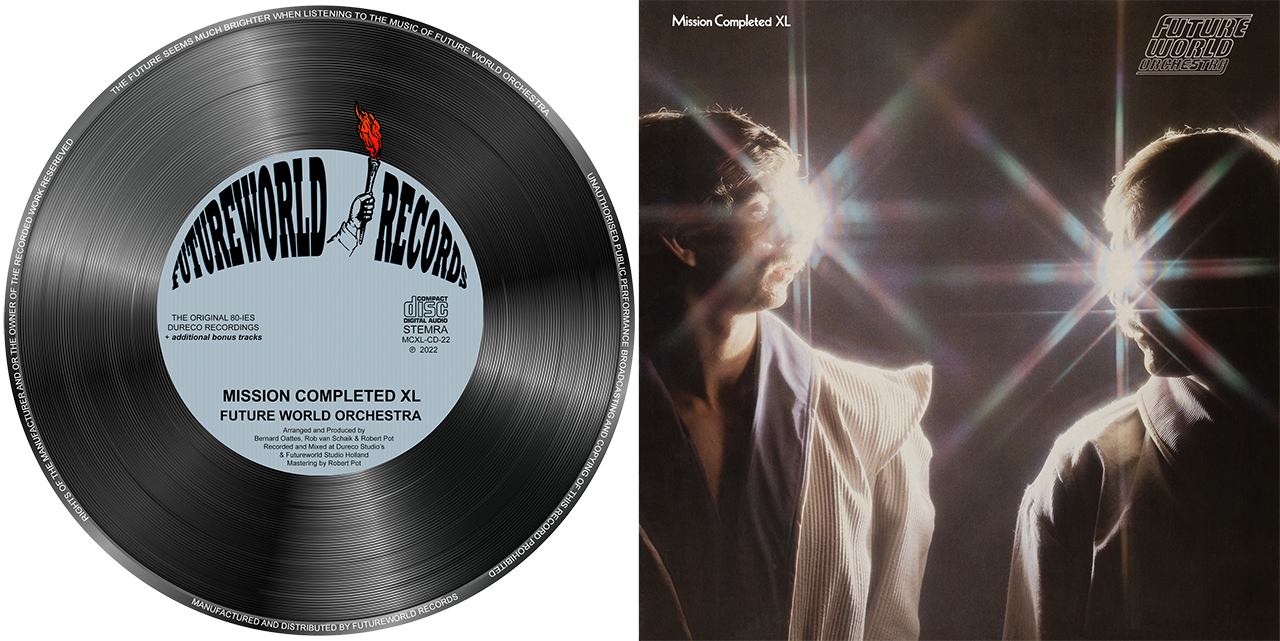 Details MISSION COMPLETED
17 Tracks – Total time: 79'14"
Track titles:
I'M NOT AFRAID OF THE FUTURE – AIRBORNE – DESIRE – HAPPY MOMENTS – DON'T GO AWAY – LUNAR ECLIPSE – MIRACLES – CASABLANCA NIGHTS – HYPNOS – JUST FOR YOU – MISSION COMPLETED
Bonus tracks:
DESIRE (Club edit) – HYPNOS (van Putten demo) – DOWN ON MELLO FARM – DESIRE (Classical version) – THE PERFECT STORM – ALL OVER
Vocals on track 1, 3, 5, 7, 8, 10, 11, 12 & 15 by Future World Orchestra & The Limit
Tracks 1 to 11 arranged and produced by Bernard Oattes & Rob van Schaik
Vocal arrangements on 'Don't go away', 'Just for you' and 'Mission Completed' by Robert Pot
Recorded and mixed at Dureco Studios, Weesp, Holland
All synthesizers programmed by Gerto Heupink and Robert Pot
Future World Orchestra uses: ARP-2600, Polymoog, Korg-3100, Korg-MS20 and ARP sequencer
Recording and mixing engineer: Sytze Gardenier, except on: 'Lunar Eclipse', mixed by Sander Bos
Bonus tracks recording, mixing & mastering engineer: Robert Pot
Recorded & mixed at Futureworld Studio Holland
Vocals on track 17 by Sandra Abbink & Robert Pot
Sonic advisories: Dick van de Merwe. Sleeve scans: Emile Willems Photography
= = = = = = = = = = = = = = = = = = = = = = = = = = = = = = = = = = = = = = = = = = = =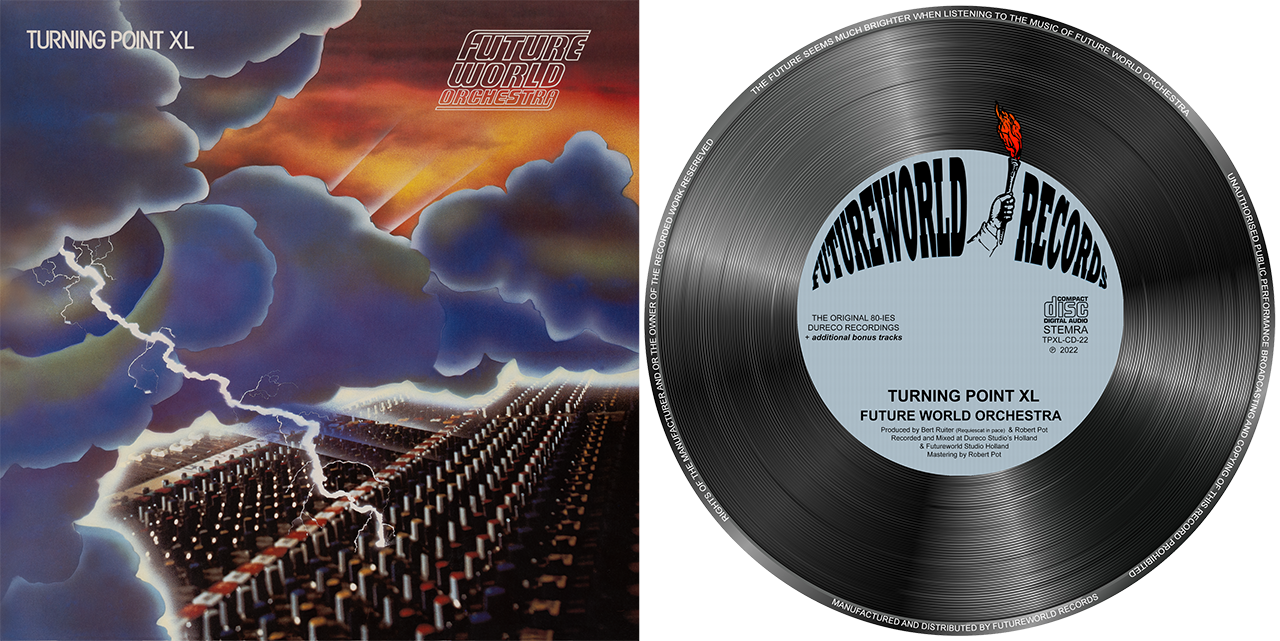 Details TURNING POINT
18 Tracks – Total time: 78'44"
Tracks titles:
ROULETTE – JUST A MATTER OF TIME – THEME FROM ET – CAPTAIN COKE
WALKING ON CLOUDS – DAWN – TENDERNESS – MISTER Y – JULY23 – SUNDOWN
Bonus tracks:
DESIRE (Caribbean edit) – I LOVE YOU SO – IN A LIFETIME – IS IT REALLY TRUE – ORDINARY PEOPLE
APRIL FOOL (Extended version) – SENSUALITY – REMINISCENCE (Piano only)
Tracks 1 to 10 arranged and produced by Bert Ruiter (requiescat in pace)
Vocals on track 2, 4, 5, & 7 by Robert Pot
Vocals on track 11, 12, 13, & 14 by Rob Koning, backing vocals by Robert Pot except track 11 by Sandra Abbink
Vocals on track 17 by Gyan
Tracks 1 to 10 recording and mixing engineer: Sytze Gardenier & Sander Bos, at Dureco Studios, Weesp, Holland
Bonus tracks recording, mixing and mastering engineer: Robert Pot,
recorded mixed (in the 90-ies) & mastered at Futureworld Studio Holland 2022
Sonic advisories: Dick van de Merwe. Sleeve scans: Emile Willems Photography